It's been over a year since Phil first sent me the riff that would be the basis for our forthcoming release Diverging. I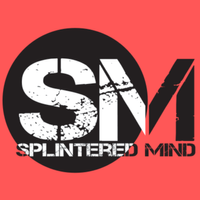 immediately loved it and got back to him with some ideas of my own. After getting together and hammering out a rough outline of a music bed I set about coming up with a melody and some lyrics that would complement it. Phil had the idea to call it "Divergent" because he thought that was a good word to describe the kind of music we make. I came up with a melody line that almost seemed to write itself and that, coupled with a slight tweak to Phil's idea for a title, dictated the direction that the lyric would take. It made me think about how hard it sometimes is to make the right decision when facing a difficult fork in the road and how even when you fail to do so and figuratively "fall down", as long as you "still go on" you will continue to make forward progress. As someone (probably not Confucius) once said "Our greatest glory is not in never failing, but in rising every time we fall."
When i got back to the studio I hoped Phil would like where his idea had taken me. I was relieved that he did and after we worked out some additional parts I went into the vocal booth and recorded a scratch melody line for the chorus. When I said "Let me do a few more. i've got sort of a 'rounds' type vocal idea; like a heavy 'row row row your boat'" I think he probably thought i had finally gone off the deep end but he indulged me and I was stoked that he liked what i was going for. After fleshing out the rest of the tune together and adding a bridge with some weird backward guitar things and a piano part, we called in our buddy Greg Unthank (Bleu Phonque) to lay down a drum track and we had the beginnings of a tune. After finishing out the recording and doing several different mixes we're finally able to say it's ready and we're super excited to get to share it at last. It's something that we're really proud of!
One of the things I love about the stuff that we create together is that it's hard to pigeonhole into any specific genre. It's not really like the hard rock that we grew up listening to, it's not like the modern screamo stuff that's so ubiquitous in the metal genre these days, and it's not like the retro style rock that bands like greta van fleet have popularized. It's its own unique thing. Even the bloggers that we've spoken to don't know how to categorize it. Born Music Online told us "it's too heavy for our indie-based site" while All That Shreds Magazine said "This sounds more like country music than any rock I know". (While we appreciate ATSM's opinion we wonder if they've ever heard country music before 'cause this definitely ain't it.)
Please consider pre-saving it here if you're a spotify user. If not, please give it a listen on your platform of choice when it's released on May 17th. Lots of love and work went into making it and If you like listening to it half as much as we've enjoyed creating it then I'll consider it a huge success. Let us know what you think.
Thanks as always for your support,
carl
here are a couple more quotes i came across that sum up what i tried to say in this tune. Courtesy of BrainyQuote.com
"Failures, repeated failures, are finger posts on the road to achievement. One fails forward toward success." C. S. Lewis 
"Far better is it to dare mighty things, to win glorious triumphs, even though checkered by failure... than to rank with those poor spirits who neither enjoy nor suffer much, because they live in a gray twilight that knows not victory nor defeat." Theodore Roosevelt 
"It's fine to celebrate success but it is more important to heed the lessons of failure." Bill Gates